The Goldfinch
R
for drug use and language


Sarah Paulson, Ansel Elgort

-

2 hr. 29 mins.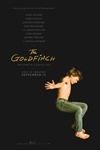 Theodore Decker was 13 years old when his mother was killed in a bombing at the Metropolitan Museum of Art. The tragedy changes the course of his life, sending him on a stirring odyssey of grief and guilt, reinvention and redemption, and even love. Through it all, he holds on to one tangible piece of hope from that terrible day...a painting of a tiny bird chained to its perch. The Goldfinch.
Official Site
Trailer
---
Hustlers
R
for pervasive sexual material, drug content, language and nudity


Constance Wu, Jennifer Lopez

-

1 hr. 49 mins.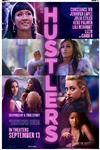 Hustlers follows a crew of savvy former strip club employees who band together to turn the tables on their Wall Street clients. The film is inspired by the article published by New York Magazine entitled "The Hustlers at Scores" written by Jessica Pressler.
Official Site
Trailer
---
It Chapter Two
R
for disturbing violent content and bloody images throughout, pervasive language, and some crude sexual material


Jessica Chastain, Bill Skarsgård

-

2 hr. 49 mins.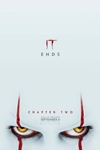 Evil resurfaces in Derry when the Losers Club reunite, and they return to where it all began in IT CHAPTER TWO.
Official Site
Trailer
---
Don't Let Go
R
for violence, bloody images, and language


David Oyelowo, Storm Reid

-

1 hr. 47 mins.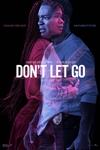 Los Angeles detective Jack Radcliff fields a distressed phone call from his niece Ashley and rushes to the rescue only to find the girl and her parents dead in an apparent murder-suicide. Then, just as the police department declares the killings an open-and-shut case, Jack gets another call from Ashley. With the cell-phone connection acting as a link between the past and the present, Jack urges Ashley to collect clues that will help him to solve her murder and change her fate.
Official Site
Trailer
---
Angel Has Fallen
R
for violence and language throughout


Gerard Butler, Morgan Freeman

-

2 hr. 1 mins.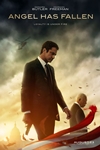 Secret Service Agent Mike Banning is framed for the attempted assassination of the President and must evade his own agency and the FBI as he tries to uncover the real threat.
Official Site
Trailer
---
Overcomer
PG
for some thematic elements


Alex Kendrick, Shari Rigby

-

1 hr. 59 mins.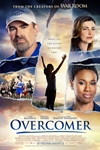 Life changes overnight for coach John Harrison when his high school basketball team and state championship dreams are crushed under the weight of unexpected news. When the largest manufacturing plant shuts down and hundreds of families leave their town, John questions how he and his family will face an uncertain future. After reluctantly agreeing to coach cross-country, John and his wife, Amy, meet an aspiring athlete who's pushing her limits on a journey toward discovery. Inspired by the words and prayers of a new-found friend, John becomes the least likely coach helping the least likely runner attempt the impossible in the biggest race of the year.
Official Site
Trailer
---
47 Meters Down: Uncaged
PG-13
for creature related violence and terror, some bloody images and brief rude gestures


John Corbett, Nia Long

-

1 hr. 29 mins.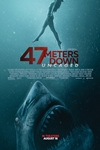 47 Meters Down: Uncaged follows the diving adventure of four teenage girls (Corinne Foxx, Sistine Stallone, Sophie Nélisse, and Brianne Tju) exploring a submerged Mayan City. Once inside, their rush of excitement turns into a jolt of terror as they discover the sunken ruins are a hunting ground for deadly Great White Sharks. With their air supply steadily dwindling, the friends must navigate the underwater labyrinth of claustrophobic caves and eerie tunnels in search of a way out of their watery hell.
Official Site
Trailer
---
Blinded by the Light
PG-13
for thematic material and language including some ethnic slurs


Viveik Kalra, Kulvinder Ghir

-

1 hr. 58 mins.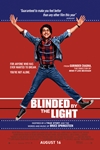 "Blinded by the Light" is a joyful story of courage, love, hope, family and the unique ability of music to lift the human spirit. The film tells the story of Javed (Viveik Kalra) a British teen of Pakistani descent, growing up in the town of Luton, England, in 1987. Amidst the racial and economic turmoil of the times, he writes poetry as a means to escape the intolerance of his hometown and the inflexibility of his traditional father. But when a classmate introduces him to the music of The Boss, Javed sees parallels to his working-class life in Springsteen's powerful lyrics. As Javed discovers a cathartic outlet for his own pent-up dreams, he also begins to find the courage to express himself in his own unique voice.
Official Site
Trailer
---
Good Boys
R
for strong crude sexual content, drug and alcohol material, and language throughout - all involving tweens


Jacob Tremblay, Keith L. Williams

-

1 hr. 29 mins.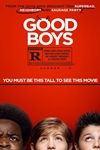 Just how bad can one day get? The creative minds behind Superbad, Pineapple Express and Sausage Party take on sixth grade hard in the outrageous comedy, Good Boys.
After being invited to his first kissing party, 12-year-old Max is panicking because he doesn't know how to kiss. Eager for some pointers, Max and his best friends Thor and Lucas decide to use Max's dad's drone - which Max is forbidden to touch - to spy (they think) on a teenage couple making out next door.
But when things go ridiculously wrong, the drone is destroyed. Desperate to replace it before Max's dad gets home, the boys skip school and set off on an odyssey of epically bad decisions involving some accidentally stolen drugs, frat-house paintball, and running from both the cops and terrifying teenage girls.
Official Site
Trailer
---
The Art of Racing in the Rain
PG
for thematic material


Kevin Costner, Milo Ventimiglia

-

1 hr. 49 mins.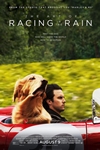 Based on the best-selling novel by Garth Stein, THE ART OF RACING IN THE RAIN is a heartfelt tale narrated by a witty and philosophical dog named Enzo (voiced by Kevin Costner). Through his bond with his owner, Denny Swift (Milo Ventimiglia), an aspiring Formula One race car driver, Enzo has gained tremendous insight into the human condition and understands that the techniques needed on the racetrack can also be used to successfully navigate the journey of life. The film follows Denny and the loves of his life - his wife, Eve (Amanda Seyfried), their young daughter Zoe (Ryan Kiera Armstrong), and ultimately, his true best friend, Enzo.
Official Site
Trailer
---
Dora and the Lost City of Gold
PG
for action and some impolite humor


Isabela Moner, Eugenio Derbez

-

1 hr. 42 mins.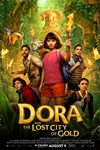 Having spent most of her life exploring the jungle with her parents, nothing could prepare Dora (Isabela Moner) for her most dangerous adventure ever - High School. Always the explorer, Dora quickly finds herself leading Boots (her best friend, a monkey), Diego (Jeffrey Wahlberg), a mysterious jungle inhabitant (Eugenio Derbez), and a rag tag group of teens on a live-action adventure to save her parents (Eva Longoria, Michael Peña) and solve the impossible mystery behind a lost city of gold.
Official Site
Trailer
---
The Kitchen
R
for violence, language throughout and some sexual content


Melissa McCarthy, Tiffany Haddish

-

1 hr. 43 mins.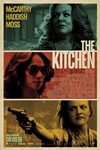 "The Kitchen" stars Melissa McCarthy, Tiffany Haddish and Elisabeth Moss as three 1978 Hell's Kitchen housewives whose mobster husbands are sent to prison by the FBI. Left with little but a sharp ax to grind, the ladies take the Irish mafia's matters into their own hands proving unexpectedly adept at everything from running the rackets to taking out the competition literally.
Official Site
Trailer
---
Scary Stories to Tell In The Dark
PG-13
for terror/violence, disturbing images, thematic elements, language including racial epithets, and brief sexual references


Zoe Colletti, Michael Garza

-

1 hr. 51 mins.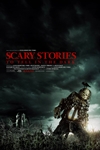 It's 1968 in America. Change is blowing in the wind...but seemingly far removed from the unrest in the cities is the small town of Mill Valley where for generations, the shadow of the Bellows family has loomed large. It is in their mansion on the edge of town that Sarah, a young girl with horrible secrets, turned her tortured life into a series of scary stories, written in a book that has transcended time - stories that have a way of becoming all too real for a group of teenagers who discover Sarah's terrifying home.
Official Site
Trailer
---
The Lion King
PG
for sequences of violence and peril, and some thematic elements


Donald Glover, Beyoncé Knowles-Carter

-

1 hr. 58 mins.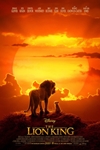 From Disney Live Action, director Jon Favreau's all-new -The Lion King- journeys to the African savanna where a future king is born. Simba idolizes his father, King Mufasa, and takes to heart his own royal destiny. But not everyone in the kingdom celebrates the new cub's arrival. Scar, Mufasa's brother -and former heir to the throne- has plans of his own. The battle for Pride Rock is ravaged with betrayal, tragedy and drama, ultimately resulting in Simba's exile. With help from a curious pair of newfound friends, Simba will have to figure out how to grow up and take back what is rightfully his.
Official Site
Trailer
---
Crawl
R
for bloody creature violence, and brief language


Kaya Scodelario, Barry Pepper

-

1 hr. 27 mins.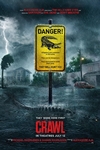 When a massive hurricane hits her Florida hometown, Haley (Kaya Scodelario) ignores evacuation orders to search for her missing father (Barry Pepper). Finding him gravely injured in the crawl space of their family home, the two become trapped by quickly encroaching floodwaters. As time runs out to escape the strengthening storm, Haley and her father discover that the rising water level is the least of their fears.
Official Site
Trailer
---
Yesterday
PG-13
for suggestive content and language


Lily James, Himesh Patel

-

1 hr. 52 mins.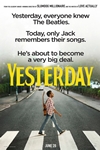 In Yesterday, Himesh Patel is Jack Malik, a struggling singer-songwriter whose dreams of fame are rapidly fading, despite the support and devotion of his childhood best friend, Ellie (Lily James). When Jack wakes up after a freak accident to discover that The Beatles have never existed ... and he finds himself with a very complicated problem, indeed.
Featuring new versions of The Beatles' most beloved hits, Yesterday is written by Richard Curtis (Love Actually) and directed by Academy Award®-winner Danny Boyle (Slumdog Millionaire).
Official Site
Trailer
---
Annabelle Comes Home
R
for horror violence and terror


Mckenna Grace, Patrick Wilson

-

1 hr. 46 mins.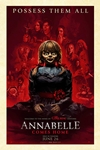 Determined to keep Annabelle from wreaking more havoc, demonologists Ed and Lorraine Warren bring the possessed doll to the locked artifacts room in their home, placing her "safely" behind sacred glass and enlisting a priest's holy blessing. But an unholy night of horror awaits as Annabelle awakens the evil spirits in the room, who all set their sights on a new target - the Warrens' ten-year-old daughter, Judy, and her friends.
Official Site
Trailer
---
Men In Black: International
PG-13
for sci-fi action some language and suggestive material


Chris Hemsworth, Tessa Thompson

-

1 hr. 55 mins.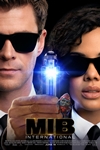 The Men in Black have always protected the Earth from the scum of the universe. In this new adventure, they tackle their biggest, most global threat to date: a mole in the Men in Black organization.
Official Site
Trailer
---
The Secret Life of Pets 2
PG
for some action and rude humor


Kevin Hart, Jenny Slate

-

1 hr. 26 mins.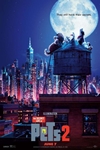 Terrier Max is coping with some major life changes. His owner is now married and has a toddler, Liam. Max is so worried about protecting the boy that he develops a nervous tic. On a family trip to a farm, Max and mutt Duke encounter canine-intolerant cows, hostile foxes and a terrifying turkey, all of which only elevates Max's anxiety. Luckily, Max gets some guidance from veteran farm dog Rooster, who pushes Max to ditch his neuroses, find his inner alpha, and give Liam a little more freedom.
Official Site
Trailer
---
Aladdin
PG
for some action/peril


Will Smith, Mena Massoud

-

2 hr. 8 mins.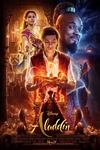 "Aladdin" is the exciting tale of the charming street rat Aladdin, the courageous and self-determined Princess Jasmine and the Genie who may be the key to their future.
Official Site
Trailer
---