The Incredibles 2
PG
for action sequences and some brief mild language


Craig T. Nelson, Holly Hunter

-

1 hr. 58 mins.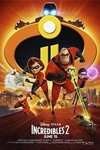 Everyone's favorite family of superheroes is back in Incredibles 2 but this time Helen (voice of Holly Hunter) is in the spotlight, leaving Bob (voice of Craig T. Nelson) at home with Violet (voice of Sarah Vowell) and Dash (voice of Huck Milner) to navigate the day-to-day heroics of normal life. It's a tough transition for everyone, made tougher by the fact that the family is still unaware of baby Jack-Jack's emerging superpowers. When a new villain hatches a brilliant and dangerous plot, the family and Frozone (voice of Samuel L. Jackson) must find a way to work together again which is easier said than done, even when they're all Incredible.
Official Site
Trailer
---
Tag
R
for language throughout, crude sexual content, drug use and brief nudity


Jeremy Renner, Ed Helms

-

1 hr. 37 mins.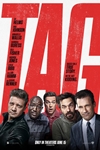 One month every year, five highly competitive friends hit the ground running in a no-holds-barred game of tag they've been playing since the first grade - risking their necks, their jobs and their relationships to take each other down with the battle cry "You're It!" This year, the game coincides with the wedding of their only undefeated player, which should finally make him an easy target. But he knows they're coming... and he's ready. Based on a true story, "Tag" shows how far some guys will go to be the last man standing.
Official Site
Trailer
---
Superfly
R
for violence and language throughout, strong sexuality, nudity, and drug content.


Trevor Jackson, Jason Mitchell

-

1 hr. 56 mins.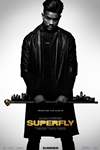 Superfly - the film that helped define a genre in its characters, look, sound, and feel - is reimagined with Director X, director of legendary music videos (Drake, Rihanna), introducing it to a new generation. The screenplay is by Alex Tse.
Official Site
Trailer
---
Hereditary
R
for horror violence, disturbing images, language, drug use and brief graphic nudity


Toni Collette, Gabriel Byrne

-

2 hr. 6 mins.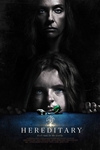 When Ellen, the matriarch of the Graham family, passes away, her daughter's family begins to unravel cryptic and increasingly terrifying secrets about their ancestry. The more they discover, the more they find themselves trying to outrun the sinister fate they seem to have inherited. Making his feature debut, writer-director Ari Aster unleashes a nightmare vision of a domestic breakdown that exhibits the craft and precision of a nascent auteur, transforming a familial tragedy into something ominous and deeply disquieting, and pushing the horror movie into chilling new terrain with its shattering portrait of heritage gone to hell.
Official Site
Trailer
---
Hotel Artemis
R



Jodie Foster, Sterling K. Brown

-

1 hr. 33 mins.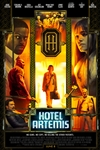 Set in riot-torn, near-future Los Angeles, HOTEL ARTEMIS is an original, high-octane action-thriller starring Jodie Foster as The Nurse, who runs a secret, members-only hospital for criminals.
Official Site
Trailer
---
Ocean's 8
PG-13
for language, drug use, and some suggestive content


Sarah Paulson, Helena Bonham Carter

-

1 hr. 50 mins.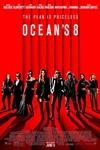 Debbie Ocean gathers a crew to attempt an impossible heist at New York City's yearly Met Gala.
Official Site
Trailer
---
Action Point
R
for crude sexual content, language, drug use, teen drinking, and brief graphic nudity


Johnny Knoxville, Camilla Wolfson

-

1 hr. 25 mins.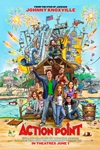 Everyone's favorite daredevil Johnny Knoxville is back to his hilariously painful antics in the upcoming comedy ACTION POINT. Knoxville stars as D.C., the crackpot owner of a low-rent, out-of-control amusement park where the rides are designed with minimum safety for maximum fun. Just as D.C.'s estranged teenage daughter Boogie comes to visit, a corporate mega-park opens nearby and jeopardizes the future of Action Point. To save his beloved theme park and his relationship with his daughter, D.C. and his loony crew of misfits risk everything to pull out all the stops - and stunts – making for another wild ride from the star of BAD GRANDPA and JACKASS.
Official Site
Trailer
---
Solo: A Star Wars Story
PG-13
for sequences of sci-fi action/violence


Alden Ehrenreich, Donald Glover

-

2 hr. 15 mins.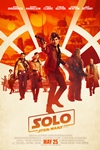 Board the Millennium Falcon and journey to a galaxy far, far away in Solo: A Star Wars Story, an all-new adventure with the most beloved scoundrel in the galaxy. Through a series of daring escapades deep within a dark and dangerous criminal underworld, Han Solo meets his mighty future copilot Chewbacca and encounters the notorious gambler Lando Calrissian, in a journey that will set the course of one of the Star Wars saga's most unlikely heroes.
Official Site
Trailer
---
Deadpool 2
R
for strong violence and language throughout, sexual references and brief drug material


Ryan Reynolds, Morena Baccarin

-

1 hr. 59 mins.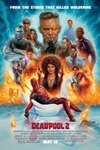 After surviving a near fatal bovine attack, a disfigured cafeteria chef (Wade Wilson) struggles to fulfill his dream of becoming Mayberry's hottest bartender while also learning to cope with his lost sense of taste. Searching to regain his spice for life, as well as a flux capacitor, Wade must battle ninjas, the yakuza, and a pack of sexually aggressive canines, as he journeys around the world to discover the importance of family, friendship, and flavor - finding a new taste for adventure and earning the coveted coffee mug title of World's Best Lover.
Official Site
Trailer
---
Show Dogs
PG
for suggestive and rude humor, language and some action language and some action


Will Arnett, Natasha Lyonne

-

1 hr. 32 mins.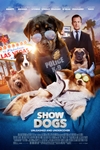 Starring Will Arnett, Chris "Ludacris" Bridges, Natasha Lyonne, Jordin Sparks, Gabriel Iglesias, Shaquille O'Neal, Alan Cumming, and Stanley Tucci, SHOWDOGS is a family comedy about the unlikely pairing of a human detective (Arnett) and his canine partner (voice of Chris "Ludacris" Bridges), who has to go undercover at the world's most exclusive dog show to solve his biggest case yet.
Official Site
Trailer
---
Life of the Party
PG-13
for sexual material, drug content and partying


Melissa McCarthy, Gillian Jacobs

-

1 hr. 45 mins.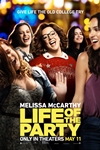 When her husband suddenly dumps her, longtime dedicated housewife Deanna (McCarthy) turns regret into re-set by going back to college - landing in the same class and school as her daughter, who's not entirely sold on the idea. Plunging headlong into the campus experience, the increasingly outspoken Deanna - now Dee Rock - embraces freedom, fun and frat boys on her own terms, finding her true self in a senior year no one ever expected.
Official Site
Trailer
---
Avengers: Infinity War
PG-13
for intense sequences of sci-fi violence and action throughout, language and some crude references


Robert Downey Jr., Chris Evans

-

2 hr. 36 mins.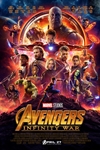 An unprecedented cinematic journey ten years in the making and spanning the entire Marvel Cinematic Universe, Marvel Studios' "Avengers: Infinity War" brings to the screen the ultimate, deadliest showdown of all time. The Avengers and their Super Hero allies must be willing to sacrifice all in an attempt to defeat the powerful Thanos before his blitz of devastation and ruin puts an end to the universe.
Official Site
Trailer
---
I Feel Pretty
PG-13
for sexual content, some partial nudity, and language


Amy Schumer, Michelle Williams

-

1 hr. 50 mins.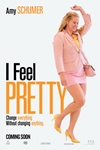 In I FEEL PRETTY a woman who struggles with feelings of deep insecurity and low self-esteem, that hold her back everyday, wakes from a brutal fall in an exercise class believing she is suddenly a supermodel. With this newfound confidence she is empowered to live her life fearlessly and flawlessly, but what will happen when she realizes her appearance never changed?
Official Site
Trailer
---
Rampage
PG-13
for sequences of violence, action and destruction, brief language, and crude gestures


Dwayne Johnson, Naomie Harris

-

1 hr. 47 mins.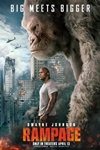 Primatologist Davis Okoye (Johnson), a man who keeps people at a distance, shares an unshakable bond with George, the extraordinarily intelligent, silverback gorilla who has been in his care since birth. But a rogue genetic experiment gone awry mutates this gentle ape into a raging creature of enormous size. To make matters worse, it's soon discovered there are other similarly altered animals. As these newly created alpha predators tear across North America, destroying everything in their path, Okoye teams with a discredited genetic engineer to secure an antidote, fighting his way through an ever-changing battlefield, not only to halt a global catastrophe but to save the fearsome creature that was once his friend.
Official Site
Trailer
---
Tyler Perry's Acrimony
R
for language, sexual content and some violence


Taraji P. Henson, Lyriq Bent

-

2 hr. 0 mins.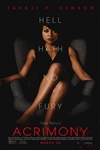 A faithful wife (Oscar nominee Taraji P. Henson) tired of standing by her devious husband is enraged when it becomes clear she has been betrayed.
Official Site
Trailer
---
Ready Player One
PG-13
for sequences of sci-fi action violence, bloody images, some suggestive material, partial nudity and language


Tye Sheridan, Olivia Cooke

-

2 hr. 20 mins.
From filmmaker Steven Spielberg comes the science fiction action adventure Ready Player One, based on Ernest Cline's bestseller of the same name, which has become a worldwide phenomenon.The film is set in 2045, with the world on the brink of chaos and collapse. But the people have found salvation in the OASIS, an expansive virtual reality universe created by the brilliant and eccentric James Halliday (Mark Rylance). When Halliday dies, he leaves his immense fortune to the first person to find a digital Easter egg he has hidden somewhere in the OASIS, sparking a contest that grips the entire world. When an unlikely young hero named Wade Watts (Tye Sheridan) decides to join the contest, he is hurled into a breakneck, reality-bending treasure hunt through a fantastical universe of mystery, discovery and danger.
Official Site
Trailer
---
Isle of Dogs
PG-13
for thematic elements and some violent images


F. Murray Abraham, Bob Balaban

-

1 hr. 30 mins.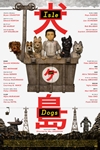 ISLE OF DOGS tells the story of ATARI KOBAYASHI, 12-year-old ward to corrupt Mayor Kobayashi. When, by Executive Decree, all the canine pets of Megasaki City are exiled to a vast garbage-dump called Trash Island, Atari sets off alone in a miniature Junior-Turbo Prop and flies across the river in search of his bodyguard-dog, Spots. There, with the assistance of a pack of newly-found mongrel friends, he begins an epic journey that will decide the fate and future of the entire Prefecture.
Official Site
Trailer
---
Sherlock Gnomes
PG
avengers


James McAvoy, Emily Blunt

-

1 hr. 26 mins.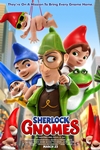 When Gnomeo and Juliet first arrive in the city with their friends and family, their biggest concern is getting their new garden ready for spring. However, they soon discover that someone is kidnapping garden gnomes all over London. When Gnomeo and Juliet return home to find that everyone in their garden is missing there's only one gnome to call SHERLOCK GNOMES. The famous detective and sworn protector of London's garden gnomes arrives with his sidekick Watson to investigate the case. The mystery will lead our gnomes on a rollicking adventure where they will meet all new ornaments and explore an undiscovered side of the city.
Official Site
Trailer
---
I Can Only Imagine
PG
for thematic elements including some violence


Dennis Quaid, Cloris Leachman

-

1 hr. 50 mins.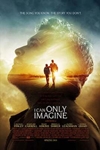 Based on the incredible true-life story that inspired the beloved, chart-topping song, I Can Only Imagine is a song that brings ultimate hope to so many - often in the midst of life's most challenging moments. Amazingly, the song was written in mere minutes by MercyMe lead singer Bart Millard. In reality, those lyrics took a lifetime to craft.
Official Site
Trailer
---
A Wrinkle in Time
PG
for thematic elements and some peril


Oprah Winfrey, Reese Witherspoon

-

1 hr. 49 mins.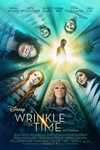 Meg Murry is a typical middle school student struggling with issues of self-worth who just wants to fit in. The daughter of two world-renowned physicists, she is intelligent and uniquely gifted, as is Meg's younger brother, Charles Wallace, but she has yet to realize it for herself. Complicating matters is the mysterious disappearance of Mr. Murry, which has left Meg devastated and her mother broken-hearted. Charles Wallace introduces Meg and her fellow classmate Calvin to three celestial beings (Mrs. Which, Mrs. Whatsit and Mrs. Who) who have journeyed to Earth to help search for their father, and together they embark on their formidable quest. Travelling via a wrinkling of time and space known as tessering, they are transported to worlds beyond their imagination where they must confront a powerful evil force. To make it back home to Earth, Meg must face the darkness within herself in order to harness the strength necessary to defeat the darkness rapidly enveloping the Universe.
Official Site
Trailer
---
Game Night
R
for language, sexual references and some violence


Jason Bateman, Rachel McAdams

-

1 hr. 40 mins.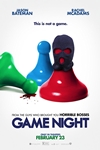 Bateman and McAdams star as Max and Annie, whose weekly couples game night gets kicked up a notch when Max's charismatic brother, Brooks (Chandler), arranges a murder mystery party, complete with fake thugs and faux federal agents. So when Brooks gets kidnapped, it's all part of the game - right? But as the six uber-competitive gamers set out to solve the case and win, they begin to discover that neither this game - nor Brooks - are what they seem to be. Over the course of one chaotic night, the friends find themselves increasingly in over their heads as each twist leads to another unexpected turn. With no rules, no points, and no idea who all the players are, this could turn out to be the most fun they've ever had... or game over.
Official Site
Trailer
---
Black Panther
PG-13
for prolonged sequences of action violence, and a brief rude gesture


Chadwick Boseman, Lupita Nyong'o

-

2 hr. 14 mins.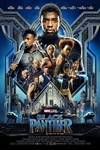 "Black Panther" follows T'Challa who, after the events of "Captain America: Civil War," returns home to the isolated, technologically advanced African nation of Wakanda to take his place as King. However, when an old enemy reappears on the radar, T'Challa's mettle as King and Black Panther is tested when he is drawn into a conflict that puts the entire fate of Wakanda and the world at risk.
Official Site
Trailer
---
Peter Rabbit
PG
for some rude humor and action


James Corden, Rose Byrne

-

1 hr. 34 mins.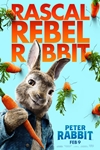 Peter Rabbit, the mischievous and adventurous hero who has captivated generations of readers, now takes on the starring role of his own irreverent, contemporary comedy with attitude. In the film, Peter's feud with Mr. McGregor (Domhnall Gleeson) escalates to greater heights than ever before as they rival for the affections of the warm-hearted animal lover who lives next door (Rose Byrne). James Corden voices the character of Peter with playful spirit and wild charm, with Margot Robbie, Elizabeth Debicki, and Daisy Ridley performing the voice roles of the triplets, Flopsy, Mopsy, and Cottontail.
Official Site
Trailer
---
Jumanji: Welcome to the Jungle
PG-13
for adventure action, suggestive content and some language


Dwayne Johnson, Jack Black

-

1 hr. 58 mins.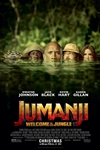 In the brand new adventure Jumanji: Welcome to the Jungle, the tables are turned as four teenagers in detention are sucked into the world of Jumanji. When they discover an old video game console with a game they've never heard of, they are immediately thrust into the game's jungle setting, into the bodies of their avatars, played by Dwayne Johnson, Jack Black, Kevin Hart, and Karen Gillan. What they discover is that you don't just play Jumanji - Jumanji plays you. They'll have to go on the most dangerous adventure of their lives, or they'll be stuck in the game forever...
Official Site
Trailer
---